Removing a Name From a Mortgage in Leeds
Removing a name from a mortgage advice in Leeds
Whatever the reason is for wanting to remove a name from a mortgage, the process may be hard and complicated. As soon as you take out a mortgage in multiple names, getting your name or someone else's name off can prove difficult.

It's not impossible to take a name off a mortgage. Here is why people want names removed from a mortgage and how you can do it:

Why would you want to remove a name from a mortgage?
Divorce & separation
The first and most common example would be if you were going through a divorce or separation and needed to take either your name or your ex-partner's name off the mortgage. When going through a breakup, financial arrangements get pushed to the back of your mind, however, they should be actioned on first. Leaving the complicated processes till last can be stressful. You will also need to allow some time for your lenders to do what they need to do; they can't just remove a name just like that.

Your lender, building society or mortgage broker in Leeds will need to know that both parties will be able to live comfortably with just one income. If one party decides to remain within the household, the lender will need to make sure that they can afford the mortgage payments by themselves or whether they'll still need help with them. Both parties must agree for a name to be taken off a mortgage, therefore, if one party says no, you'll be required to go down the route of court proceedings, which can be costly and time-consuming.

If you're going through a tough divorce or separation and need specialist mortgage advice in Leeds, we're here to help you arrange the mortgage side of the process.

Transferring to a family member or friend
Surprisingly, this process is fairly straightforward, even more so if you choose to use a mortgage broker in Leeds.

The process will involve the homeowner transferring equity to their family member or friend. Essentially, the mortgage will get transferred with the equity remaining inside the property. The new homeowner will still be required to prove that they can afford a mortgage. They'll have to pass their lender's affordability and eligibility assessments.

A party is not paying their share
If a party is not paying their way, it can start causing you problems as you're financially associated with them. Believe it or not, as a mortgage broker in Leeds, we've seen this situation come about quite a lot, it's usually when there's been an argument within the household!

If bills aren't being paid by one person within a household, it can affect everyone else too. When you sign up for a mortgage with multiple names, you're trusting that everyone is going to keep up to date with their payments. Missed payments can negatively affect your credit rating and score.

If you're in this situation, it may be best to approach your lender. Alternatively, you can speak to a professional mortgage advisor in Leeds and help before it gets worse.

Need help removing a name?
When you're wanting to remove a name from a mortgage, it's essential that you speak with an expert. Getting specialist mortgage advice in Leeds will definitely help you out.

We would recommend describing your issue to your mortgage advisor in Leeds and going from there. Before you can continue, the named party that you're trying to remove will need to prove that they are able to live comfortably with one income. This part of the process can be a struggle, particularly if a party is refusing a name to be removed.

Let our team handle the stressful parts of this process. Our specialist advisors are available 7 days a week, make sure to get in touch.

Agreement in Principle: All About Hard & Soft Credit Searches in Leeds
Credit Score Mortgage Advice in Leeds
Across the nation we now find that people are paying a lot more attention to their credit rating they might have done in previous years. We find that a large majority of the people who call us for mortgage advice in Leeds perhaps have already researched online to find a copy of their credit report.

There are a wide variety of different credit reference agencies to choose from, but the two most common companies you may be aware of are Experian or Equifax.

We would highly recommend that new customers who get in touch look to use Check My File. In doing so, you'll find a report that offers customers a collation of information from various sources (the aforementioned two included) in an easy to understandable colour-coded report.

Check My File offers a 30-day free trial. After this 30 days, you will be charged £14.99 a month, although you can cancel this at any time prior to the end of those 30 days.

When speaking with our customers, our mortgage advisors are often asked if they will be doing a credit search on them, as they have done their research and know that too many searches can negatively affect their credit score.

The lender will always run their own credit checks but our mortgage advisors will always ask the customer for permission before doing so. You'll find that credit searches will come in two forms; hard searches and soft searches. Here we will discuss the difference between the two and how they can help.
What is a hard credit search for a mortgage?
A hard credit search is a way to take an in-depth look at your credit report. No matter who they are, any financial institution carrying out one of these will have to seek your permission to do undertake one of these.

The main advantage of a "hard" search would be how in-depth it actually goes. The chances are, if you can pass a hard credit check, it is likely that you will go on to be successful with a mortgage (though this is of course never a guarantee).

From this point on, all that can go wrong with your mortgage process is if for some reason you cannot provide the required documentation to backup the information that you have presented to the lender, or it turns out you have provided incorrect information altogether.

Looking at it from the other hand, another benefit is that having a hard search taken out on you will leave a 'footprint' on your credit file, which would mean that anyone taking a look at your report can see that it has been carried out.

This is not a bad thing at all, but let's say that for some had multiple searches included in your credit file in a short period of time. This could come across to the mortgage lender that you are applying for a lots of credit at the same time and this may put them off.

The footprint will not leave a note as to whether or not your application was successful, so if you have several searches in a short amount of time, the lenders' systems may assume wrongly that you are being declined regularly. Think about it; why would you apply for credit with a second lender, unless you'd been declined by the first?

Having the occasional hard footprint on your record isn't too big of an issue, so you really don't need to worry about it too much. Just be careful not to have too many of these taken out
What is a soft credit search?
The alternative to the hard search, would be a soft credit search. This would be a much straightforward search which takes a look at your financial situation and would be the type of search that you might come across when using a price comparison website, so that you can find out what options may be available to you.

Alternatively it can be used to verify your identity. You'll find that some mortgage lenders will carry out soft searches of their own. We find that nowadays, even more lenders are changing to this type of credit search.

Whilst it will give whoever is carrying out a soft search less information than they would've gotten from a hard search, if you managed to obtain an Agreement in Principle from a lender, it is still a very good indicator that your full application will be accepted for a mortgage.

One of the things that appeals to customers regarding soft searches is that you have the ability to see soft searches that others have carried out on you (people are often surprised by how many have been carried out on them), though these searches will not be visible to other financial institutions such as a bank or lender.

This means that you have the ability to apply for an Agreement in Principle ahead of a mortgage in Leeds, without causing any damage to your credit score, regardless of whether it is successful or not.

If you are thinking of making any offers on a property as a first-time buyer in Leeds, our trusted and dedicated mortgage advisors in Leeds would very much suggest that you obtain a mortgage Agreement in Principle in place prior to getting in touch with an estate agent.

You should ideally look to give yourself the best possible chance of securing your dream property at the lowest possible price. With this in mind, if you present yourselves as having your finances in order, you will definitely give yourself the upper hand in your mortgage situation.

Being in possession of an Agreement in Principle could also help prevent an estate agent from trying to cross-sell any of their own mortgage products to you.
Pension Advice in Leeds
Providing advice for customers with pension enquiries
Some people find the idea of sorting out a pension can be slightly off-putting. Nevertheless, it is worth doing so as they can genuinely benefit you later when you approach the legal retirement age.

Over the years, you will likely have paid into one or more pension plans, be that personal or workplace. Many clients have little to no idea how much they'll be worth when they retire!

Those pensions may no longer match your circumstances, this is something your advisor will be able to check for you. It is always worth looking into paying for advice, especially if you have pots totalling over £10,000.
Pension Health Check
Some employers who offer defined benefit schemes (final salary pension) may motivate members to transfer their benefits to a different provider. Once you have found a trustworthy pension advisor, you can build up that long relationship with them. They will then review your pensions regularly, ensuring you are on track to the income in retirement you were hoping to aim for.
Getting all your pensions with one provider
The following could possibly be happening without your knowledge if you haven't had your pension review in a while;
The plans you have set in place are in funds that maybe could be performing better or the subject to expensive charges which will affect the total amount you'll receive in retirement.
For ease, often customers like the idea of having all their pension plans with one provider. Is easier to track this way.
Before considering a pension transfer, seek advice from an experienced and qualified pension advisor in Leeds who will make a personalised recommendation. 
At retirement advice
If you are retired or approaching retirement, this is an excellent opportunity to seek professional advice.   

Pension drawdown (aka income drawdown) allows you to cash in a percentage of your pension tax-free when you're over a certain age.  These rules do change, so it's essential to seek advice to remain up to date.

Your pension provider may offer you an uncompetitive annuity when you come to draw your pension but again speaking to a qualified pension advisor will potentially open up more options for you and possibly increase your income in retirement, this can lead to a better and healthier retirement lifestyle.

If you would like some specialist advice in Leeds, please get in touch. we would love to point you in the right direction.
Mortgage Advice in Leeds
How to Improve your Credit Score in Leeds
Credit Score Mortgage Advice in Leeds
Firstly, what is a credit score? A credit score is a numerical value that lenders use to calculate your affordability for a mortgage loan/any form of credit, etc. Although different lenders have their own unique credit scoring models, the credit score that you'll have listed on your score will likely range from 300-800+.
Credit score criteria
300-580 – A score within this range is considered poor. Having a credit score like this can lower your chances of being accepted by your lender. You may also be limited to specialist products and have to put down a higher deposit.

580-670 – This is a fair credit score. Your lender may be more lenient with you and your application with a score like this.

670-740 – You have a good credit score if you fit in this range and your chances of being accepted will be higher. This is the most common credit score amongst applicants.

740-800 – This score is classed as very good. A very good score in this range can further increase your chances of being accepted for a mortgage and will likely open you up to more competetitive rates.

800+ – If you have a score greater than 800, it is classed as an excellent score. Your score is considered well above the average, well done!


A credit score below the 'good' range may mean that you'll only be able to access specialist products, whereas, if you have a score that's greater than 'good', it's likely that you'll be able to access more competitive products.

Reasons that your credit score may be lower
As an experienced mortgage broker in Leeds, we handle specialist cases every day. More than often we find that our customers have come to us after being declined by their bank/building society due to a low credit score or something similar. It's our job to pick up where they left off on their mortgage journey and try to secure them a great mortgage deal.

There are many different reasons why you could have a low credit score. A common reason that we come across is that there is a county court judgement (also known as a CCJ) associated with the applicant's name. You may receive a CCJ when you've taken a loan/borrowed money and have failed to pay off the amount owed. CCJ's can put a harmful imprint on your credit file for 6 years or more, and that's why it's so important that you try and get the CCJ removed from your file prior to applying for a mortgage or make sure that you pay off all owed payments before you receive a CCJ. A CCJ will undoubtedly reflect negatively on your mortgage application and your lender will start asking questions.

Following on from CCJ's, failing to stick to credit agreements can also harm your credit score. Even failing to keep up with your mobile phone contract payments can eventually cause damage to your credit file. You can't forget about the little things either, as they can cause damage too. For example, dipping into your overdraft every month could cause a long term negative effect.

These are just a few examples of things that can negatively affect your credit score. Of course, there are lots of other reasons why you may have bad credit and some more obvious than others. It's our job to try and help you improve your score and give you expert tips to try and get your credit file looking up to shape.

Improving your credit score in Leeds
Improving your credit score, especially when it's low, can sometimes be difficult. When it comes to helping you improve your credit score, we want to give you the best advice possible to help you do so.

You should know that each lender has their own unique passing criteria, so your score may affect what sort of deals you can access from each one. Also, you may not match every single mortgage product, so rather than applying for lots of different products, you could try shopping around for mortgage deals that will definitely match your situation and credit score.

Avoid unnecessary credit searches
You'll have a soft or hard credit search performed on you every time that you go directly to a lender and their in-house mortgage advisor puts you through for a deal. This search will leave an imprint on your credit file and other lenders will be able to see the search. If your application is declined, the credit search on your file may have a negative impact on your credit file. This is why we recommend keeping the number of searches performed to a minimum.

This is where we can help! As an expert mortgage broker in Leeds, we aim to get it right the first time, which means that we will take a look at your credit score and only look for products with criteria that we know you'll pass.

Avoid credit applications
Applying for credit, particularly during your mortgage application, can sometimes backfire on you. If you take out a loan or apply for extra credit if you fail to pay it off before your application, your credit score may dip and it could reflect badly on your credit file.

In some cases, as long as you pay it off, borrowing credit can actually help improve your credit score. This is because you are showing that you are a reliable applicant that meets their payment deadlines.

Check that you're on the voter's roll
An easy way to help improve your credit score is to get yourself registered onto the voter's roll (if you aren't already). Being on the voter's roll shows that you are who you say you are and you live where you say that you live. It's a simple registration process; head over to the official government's electoral roll page to find out more.

Make sure that you fill out accurate information when registering for the roll. You will need to provide your current living address, so make sure that there isn't an old one on their system.

During the mortgage application process, you should make sure that all of your information is filled out correctly, double-check that you've not got an old address listed anywhere!

Don't run close to your maximum limit
Maxing out your credit card(s) each month can heavily impact your credit score, in a negative way. Of course, paying off your credit cards each month will help and may give your credit score a small boost.

If you are exceeding credit card limits and always dipping in and out of your overdraft, they may feel as if you don't take your finances seriously and are an unreliable applicant.

Remove financial links to others
Your credit score could be getting harmed without you even knowing if you are still financially linked to someone who has bad credit. Whether it's an ex-partner or a family member, if they are harming your credit score, you should try and get your financial links removed from them. The only way to do this is to get in touch with your credit reference agencies and make a request.
Is it all about your credit score?
At the end of the day, it's up to your lender to decide whether they feel like you are the type of person that they want to be lending to. Some may be more lenient than others, whereas some may be strict and won't give you some leeway.

Sometimes it's best to get help from professionals like us. Using a mortgage broker in Leeds could allow you to access new, competitive mortgage products. Whether you've got bad credit or good credit, it's our job to try and find you a product that you perfectly match. We have a huge panel of both high street and specialist lenders, each with 1000's of mortgage deals for you to try and access.

For further credit score mortgage advice for first time buyers in Leeds and home movers in Leeds, feel free to get in touch today.

Have You Been Declined For a Mortgage in Leeds?
Specialist mortgage advice in Leeds
If you've been to your bank and been declined for a mortgage, you need to be careful about applying again and then getting declined again. There could be many different reasons why you've been declined, some may be easier to fix than others too, it depends on your situation.

Here we look at some of the most common reasons why people get declined for a mortgage.

Failing a credit score
One of the most crucial steps to obtaining a mortgage is passing the lenders credit score. Depending on factors, such as your personal and financial circumstances, some may be easier to pass than others.

Each lender will have their own unique lending criteria. Usually, if you are applying for a mortgage through a high street lender, you may be expected to have a higher credit score and be able to match competitive criteria, whereas, if you have a low credit score or have had past credit problems, you may be required to use a specialist lender with limited products.

Failing a credit score may also negatively impact your overall credit rating; this is why we advise that you don't keep applying to different lenders if you're getting declined. Rejected applications may show up your credit file, and may affect your score and ability to get accepted for credit.

If you're struggling to get accepted, you may benefit from using a mortgage broker in Leeds, like us. We are a specialist broker who try and help people in this or similar situations. Rather than getting declined and potentially damaging your credit score, you should get in touch and we will see how we can help!

Improving your credit score in Leeds
Folowing on from 'failing a credit score', getting declined due to your credit score not matching a mortgage product can be dissapointing, and that's why you should know that you can sometimes improve it!

If you have a low credit score, it is usually down to previous/current credit issues. This could be something from a CCJ to numerous unpaid phone bills. A low credit score is usually considered as less than 500, so if you fall within this range, you may need to look for specialist products.

You can increase your credit score in some cases. For example, if you have a credit card that you use regularly, you should make sure that you pay the balance off in full each month. Surpisingly, being on the voter's roll can also help as it shows where you live and adds another proof of address on your credit file. Even closing old credit/store accounts and removing your financial links to others can help improve your score.

Improving your credit score can be tricking, if you watch some more top tips, check out our YouTube Video on "How to Improve your Credit Score".
Declined for a Mortgage on Affordability
Every lender will have their own way of calculating how much you can borrow. It's possible that you could approach ten different lenders and the outcome is ten completely different answers. Depending on the lender that you've used, you may recieve a more lenient offer than others.

Some mortgage lenders will assess 100% of an employee's overtime and bonuses, whereas others will not. Additionally, some lenders will accept "unearned" income, such as tax credits, child benefits, and maintenance. It's all down to the lender that you use.

If you use a mortgage broker in Leeds like us , we can approach several different lenders without the need for a credit check in order to perform an affordability assessment. We always advise that you carry out a affordability addsessment prior to applying for a mortgage and viewing properties in Leeds. You want to avoid potential dissapoitment further down the line.

Proving that you have maintained mortgage or rent payments in the past does not necessarily guarantee that you will pass a lender's affordability test.
Outside of lending policy
All Lenders have their own unique lending criteria. This will be individual to their own products hence, depending on your situations, that's why some lenders are better than others.

Some lenders have even have their own niches to attract borrowers that they want. Some will tick different boxes, e.g. you may get a specialist lender who aims to help applicants with bad credit, whereas, another lender may stay away from these applicants.

Here are some examples of why your application has been declined for being outside of policy:
Length of time in employment or self-employment.
Adverse credit history
Not enough deposit
Non-standard property construction
A married applicant applying for a sole mortgage
Minimum/maximum age or mortgage term
Minimum/maximum loan amount
Mortgage Broker in Leeds
As a mortgage broker in Leeds, it's our job to only compare mortgage products that we know you'll match. We will never recommend you a product that will not benefit your situation.

Whether you're a first time buyer in Leeds, or moving home in Leeds, we're here to help! We know the difficulties that come with the mortgage journey and we know how to get by the majority them.

Get in touch today for a free mortgage consultation. We can't wait to hear from you!
What do Lenders Look for When Assessing My Bank Statements?
Why does the lender need my bank statements? 
A lender will need to see your bank statements to learn more about you and your spending habits. How you have acted lately, and the presentation of your bank statements can affect how much a lender will let you borrow, if anything at all.

The lender needs to know you're responsible with your money and can be trusted to handle finances appropriately. After all, a mortgage is likely the most significant financial commitment you will ever make in your life.

Your bank statements are easily obtained either in the post from your bank, over the counter from your local bank, or, as often seen these days, as a printable version from your bank's online platform.
What will lenders be looking for on my bank statement? 
Again, they need to know you're responsible for your finances. One of the things they'll be looking at is if there are any overdrafts. Using this often is not necessarily a bad thing, but if you exceed your limit regularly, this will put your level of trust into question.

More factors to be careful with are potential returned Direct Debits, showing a lender you are not consistently reliable and not disclosing loans at the application stage. It won't look good if the lender finds outgoings on your bank statements that you failed to mention. Once again, this is a process of trust.

Other things include missed payments for personal loans and items such as credit cards. If you can prove you handle your money well and meet monthly payment deadlines, a lender will be more likely to lend you an amount closer to what you would like to borrow.
Will gambling affect my chances of getting a mortgage? 
Customers find themselves stuck when they have a history of gambling. The occasional bit of fun is harmless, but if you are frequently betting large amounts of money, whether you're making it back or not, a lender will not look at your situation favourably at all.
To learn more, please see our article on "Do Gambling Transactions Look Bad on My Bank Statements?" 
What can I do to show the lender I am reliable?
From our experience working with many First-Time Buyers in Leeds & Home Movers in Leeds, we have found that most mortgage lenders will want at least three months of bank statements from an applicant.

With that in mind, it's time for you to forget the past and think about the future. You have at least three months to work on your finances. The first thing we'd suggest is that if you are a frequenter of the local bookmakers or online gambling scene, you take a break for some time. Not only does this benefit your financial state, but it can benefit your mental health too.

The following steps we would recommend taking are to trying to save money. For example, cooking instead of eating out, treating yourself to unnecessary purchases and cancelling unneeded subscriptions are great ways of freeing up additional cash to ensure you can pay bills on time.

Again, this boils down to simply being sensible and planning with plenty of time ahead of what you're looking to do. The further away you find yourself from bouts of debt and financial uncertainty, the better your chances will be with a lender. 
What is a Property Survey?
Property Survey Mortgage Advice in Leeds
The good news, you have had your offer accepted on a property. However, is the house actually worth what you said you would pay for it?

A property survey will carry out to find out the actual value and the property's overall condition. Then, the surveyor inspects the property and highlights any concerns, such as structural damages like uneven walls or subsidence. 

They will highlight any significant repairs or alterations needed, such as repairing the roof.
Different types of property survey
There are numerous survey options available. The three main types of property surveys are mortgage valuations, homebuyer's report and a full structural survey. Depending on the Lender, the survey might be free of charge. Read on for a more vital explanation of the different types of survey available.

The outcome of your survey report will vary depending on the survey that you choose. Some provide you with in-depth detail, whereas others will only brush upon certain aspects. You'll find that the more in-depth a survey is, the more costly it will be.

Nevertheless, navigating the property market can be complex, and it can be tempting to choose the cheapest solution. But attempting to save money on a survey may lead to far more expensive in the long term. 

If you discover something on your survey about your property that you weren't told about, by law, you are allowed to approach the seller and negotiate a fairer price.
Mortgage Valuation
Mortgage Valuations are the simplest type of property survey. These are carried out to work out how much a property is worth. Your lender will need to ensure that the property price matches how much you are set to borrow from them. 

For example, if you put an offer above the property's actual value, the seller will likely accept your offer. However, your lender won't. Unless you have the funds to make up the difference, the lender will pull out of the deal. This is called a down valuation.

Unfortunately, this type of survey doesn't point out apparent repairs and damages. However, it can inform you of obvious structural defects that will require a further look at. For additional property investigation, you will be required to pay more to upgrade your survey. In the long run, this may be worth it.
Homebuyer's Report
A Homebuyers Report focuses on safety. How safe is the property? Is it suitable for living? These things need to be checked as there could be a mould problem, damp issues or something that does not pass the current building laws.

A property expert will carry out the report. They will examine the property from top to bottom, ensuring that it's safe for you to move into.
Full Structural Survey
As a Mortgage Broker in Leeds, if you've made an offer on an older building, we would strongly advise that you take up a Full Structural Survey.

This is the most expensive property survey because the whole property is surveyed. It will also provide the most significant insight to the property out of the three primary surveys, highlighting what condition the property is in and what changes need to be made if the property purchase goes through.

A Full Structural Survey can take as long as a whole day, depending on the property size.
Do I need to get a survey on a new build?
New build properties work slightly differently. There is a property survey specialised for them called a Snagging Survey. This survey will point out both minor and significant issues, and it could be anywhere from a crack in the ceiling to a missing hinge on the door.

If the new build has already been built and it's ready for you to move into, ideally, you want to get a snagging survey carried out on it before moving in. This way, you have the power to negotiate to price if there is anything wrong with the property.
Mortgage Advice in Leeds
If you need guidance on which survey to choose, don't hesitate and get in touch to speak with one of our reliable mortgage team. We've helped hundreds of First Time Buyers and Home Movers in Leeds select the most suitable property surveys for previous customers – you could be next!

You can receive the services of a surveyor to carry out a Homebuyers report or building survey through the Royal Institution of Chartered Surveyors.
Can I Have Two Mortgages in Leeds?
Can I have two mortgages at once?
Most people don't even realise that they can get two or more mortgages. The idea of having one mortgage stresses people out, never mind two! 

In any case, the good news is buyers who have enough income can carry two mortgage payments at once if they still meet the lender's criteria. Then you might qualify for two mortgages at once if your credit score and job status are strong.

There are lots of different costs that come with a second mortgage, and there are many various reasons why someone might want more than one:
Why would you take out a second mortgage?
🏠 Are you looking to rent out your existing home and purchase a new one?
🏠 Are you looking to help your children out with a second mortgage?
🏠 Do you want a second mortgage to raise money for your existing home?
🏠 Do you require a second mortgage to purchase a Buy to Let property?
🏠 Maybe your name on an existing mortgage, and you are looking to buy a new property?

We have in-depth knowledge of Buy to Let mortgage criteria and worked with many lenders, including some specialist ones, each with various lending criteria.
Second mortgage to raise funds
Some people who choose built-up equity in their home might consider looking for a second mortgage, and this is because they want to release some of their equity to fund another purchase. 

If this is you and you are thinking about releasing your equity for another mortgage, you will need a deal to transfer. If you are currently on a lenders standard variable rate, we would advise that you shop around before rolling straight onto this rate. You can either shop around by yourself or approach a Mortgage Broker in Leeds, like us.

At Leedsmoneyman, we can search through thousands of mortgage deals through our extensive panel of lenders. We will try our best to find you a competitive deal and, at the time releasing capital. You can continue with your current lender, but you will only access to their limited products. Remember, lenders don't reward loyalty to offer better deals to First Time Buyers over you.
Second mortgage to rent out existing home to purchase a new one
When people want to move home, they usually replace their existing mortgage with their new one. However, some people may keep their current mortgage and property to rent it out. When this is the case, your second mortgage will be a new residential one. 
Second mortgage to purchase a home for your children
This option is becoming very popular. Due to inflation and the value of properties constantly rising, First Time Buyers in Leeds find it hard to get onto the property ladder and rely on a Gifted Deposit. We often see that applicants have had help from their parents or grandparents by offering to pay for a new home or at least the mortgage deposit.
Second Mortgage for a Buy to Let
If you are interested in purchasing a second mortgage for a Buy to Let, we will be more than happy to help you with that. We have helped hundreds of Buy to Let landlords secure amazing mortgage deals in the past, and we want you to be next.
Named on an existing mortgage and want to buy a new home?
Are you currently named on another mortgage and would like to purchase a new property? This situation does come around a lot, and unfortunately, it is because of a divorce or separation. Worry not; we can help. Having a Specialist Mortgage Advisor in Leeds by your side could help and take all of the stress off your back.

We can search through thousands of second mortgage deals on your behalf and find the best one for you and your personal and financial situation. Receive a free mortgage consultation today at Leedsmoneyman, your expert Mortgage Broker in Leeds.
Mortgage Advice in Leeds for Newly Qualified Teachers
Newly Qualified Teacher Mortgage Advice in Leeds
Great news! You have passed the necessary exams and have achieved your goal of becoming a newly qualified teacher, and now it's time to find yourself a teaching position and start in the classroom. You may find yourself in a situation that you may need to start looking at Moving House in Leeds if you aren't close enough to that particular school.

Soon you'll be looking for a place to move and balancing the struggle of homeownership whilst getting comfortable in your newfound role as a teacher. You are not alone in this situation, though, as we have helped countless customers in a similar situation.
Newly Qualified Teacher Mortgages
You may find it challenging to find a lender willing to offer a mortgage to newly qualified teachers. The main reason will be having no work history or being on a temporary contract. Even though this is the case, do not worry, as it may be still possible to obtain a mortgage as a newly qualified teacher.

On occasion, some lenders may offer good deals with those working in this particular sector. The key to this is finding the right lender, which is usually the hard part; this is where our dedicated mortgage advice team in Leeds can help search thousands of deals to find you the most appropriate mortgage deals and rates.
What mortgages for NQT teachers may be available?
The different types of mortgage available for Newly Qualified Teacher's may include:
🏠 Help-to-Buy Schemes
🏠 Fixed-Rate Mortgages
🏠 Shared Ownership Mortgages
🏠 Variable-Rate Mortgages

Here are some things that lender may take into consideration:
🏠 No previous employment history required.
🏠 Mortgages available up to one month before starting the first contract (so you can apply in August, for example).
🏠 Up to 95% loan to value.
🏠 A 12-month first post-contract can get treated the same as a permanent role.
How a Mortgage Advisor in Leeds may Help
Our loyal, hardworking and Expert team of Mortgage Advisors in Leeds have years of experience working in the industry, helping people with their mortgage situations. You'll find there are many benefits to using a trusted Mortgage Broker in Leeds.

To find out your options, Get in Touch, and our team will take some details from you to determine whether or not you can get a mortgage suitable to your circumstances.
What is a 95% Mortgage?
A 95% mortgage is when you borrow against 95% of a property's price, covering the remaining 5% with your deposit. For example, if you looked at buying a property worth £150,000 with a 95% mortgage, you would put down £7,500 as your deposit and borrow the remaining £142,500.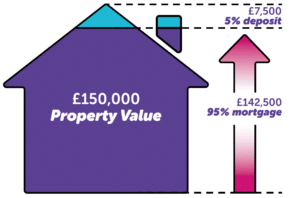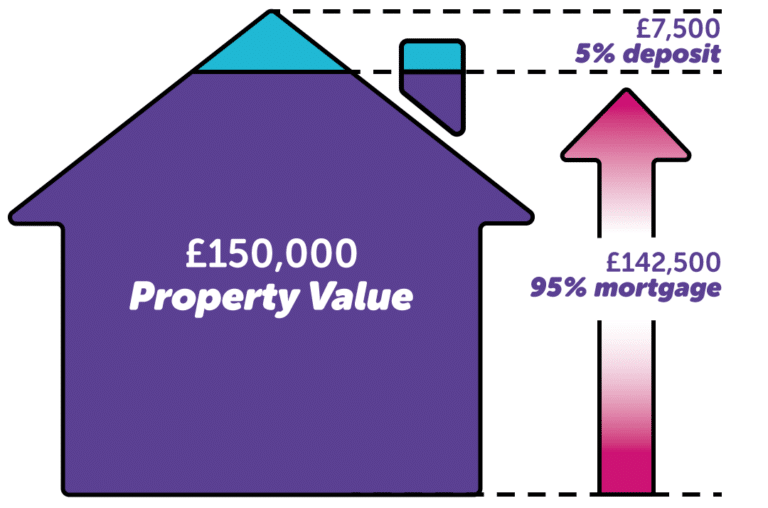 95% Mortgage Advice in Leeds
With the March 2021 Budget, Boris Johnson declared a Mortgage Guarantee Scheme for Lenders, making 95% mortgages more promptly available from banks.

This is excellent news for both first-time buyers and home movers, as this will run until December 2022. Specific terms and conditions will apply. Your Mortgage Advisor in Leeds will be able to see if you qualify.

All our customers receive a free, no-obligation mortgage consultation from recommending the best mortgage deal tailored to your circumstances.
Can I get a 95% mortgage?
95% mortgages are generally available to both First-Time Buyers in Leeds & people looking at Moving Home in Leeds. Whilst the idea of saving for a 5% deposit sounds easy enough, you'll still need to have a good credit score and prove that you can afford your monthly mortgage repayments to be granted a 95% mortgage.
Improving your credit score
A good credit score is a key to obtaining any mortgage, especially a 95% mortgage. Things like paying any existing credit commitments on time, ensuring your addresses are up-to-date and that you're on the voters' roll can all help build this up. For a more in-depth look at what you can do and why, please see our How to Improve Your Credit Score article. 
Affordability
Affordability is another key one. By providing details of your income and monthly outgoings (things like your bank statements will be necessary for this) and any pre-existing credit commitments, your lender will get a good idea of whether or not you can afford this type of mortgage.
Can my family help me get a 95% mortgage?
These days, it's trendy for family members to help each other get onto the property ladder, especially parents looking to further their children. This can be achieved by gifting the person looking to find their home and the property's deposit. Known by some as the "Bank of Mum & Dad, Gifted Deposits work purely as a gift and not as a loan. The lender will need proof that this is the case before it can be used towards your mortgage.
How do I choose the right 95% mortgage?
When looking for a 95% mortgage, you want to make sure you're on the right one. Each different mortgage type works in its own unique way, allowing you to find one that is best suited for your personal and financial situation.

You could find that you prefer Fixed Rate or Tracker Mortgages, where you either keep interest rates at a set amount for the term or have your interest rates follow the Bank of England base rates.

Alternatively, you might find that you're better suited for an Interest-Only or a Repayment Mortgage. The former allows cheaper payments until you need to pay a lump sum at the end (more suitable for Buy-to-Lets), and the latter means you'll be paying interest and capital combined per month.
How can a more significant deposit help with my mortgage?
As with anything involving such a significant financial outgoing, you need to be prepared and need to be wary. Things that might crop up include higher interest rates, remortgaging difficulties due to less equity, and negative equity.

The good news here is that all these can be avoided if you're savvy enough with your initial process. The more deposit you put down, the less risk you are to the lender.

A larger deposit, of say 10-15%, would not only lower your interest rate significantly but would also put more equity in the property and reduce the risk of negative equity as you would be borrowing less against the property in question.

So, whilst the risks seem daunting at first, planning ahead and saving for a bigger deposit to access something like a 90% or even an 85% mortgage will be a definite lifeline and something you'll be able to reap the rewards from.