Getting Prepared For a Mortgage Application in Leeds
First-Time Buyer Mortgage Advice in Leeds
After saving for months/years, you are now at a point where you can put all your hard-earned savings down for a deposit on a flat/house. Now it's time to get mortgage ready!

You might be a First Time Buyer in Leeds stepping into the mortgage world for the first time or you have experience in the home buying journey as a homeowner and are looking at moving home in Leeds. Either way, our tailored service would prove beneficial. Below is some helpful information that will help you have a grasp on what the mortgage process entails and provide you with information on what you need in order to be mortgage ready for your application.
Get mortgage ready in Leeds
Know where you stand
Firstly, getting Mortgage Advice in Leeds should be at the top of the list. Having an experienced Mortgage Advisor in Leeds by your side guiding you through the process, advising the best route for you in terms of your personal and financial circumstances can be very beneficial.

If you are looking at the amount you may be able to borrow for a mortgage and the amount it will cost, seeking Mortgage Advice in Leeds can help indicate this. Before your Mortgage Advisor in Leeds can begin the process of looking into competitive mortgage deals for you, affordability and a borrowing capacity assessment will need to be carried.

A Mortgage Broker in Leeds, like ourselves, can provide a helping hand throughout the process as well as support you in getting the basics prepared for your mortgage application. In order for your Mortgage Advisor in Leeds to understand your financial position from the very beginning, they will request an up-to-date credit report.
Getting organised for your mortgage
At the start of your mortgage journey, you will need to obtain an agreement in principle. This should be your first priority because without it you won't be able to make an offer on a property.

Here at Leedsmoneyman, we work hard to provide you with a fully credit-checked agreement in principle sorted for you in 24 hours to take some weight off your shoulders. We would need you to prove who are you are by providing the following:
Name,
Where you live,
How much you earn.
It's good to be organised as there is a lot of paperwork you will need to collate. Therefore, it's best to create a file for yourself and start collecting this in advance.
Proof of ID
In order to start the mortgage process, you will need to provide some form of identification. This needs to be a photographic ID like a Driver's License or a Passport.
Proof of address
As well as the aspects mentioned above, you'll need concrete evidence that you live at the address that you say you do. Evidence you'll need could be a utility bill or original bank statement dated within the last three months.
Last three month's bank statements
One of the most determining factors that can massively contribute towards whether you'll qualify for a mortgage or not is your spending habits. Your bank statements are something your lenders like to take a look at because they can get an idea of what goes into your account and what goes out. This provides an insight into if you'll be able to manage your monthly mortgage payments as well as your other expenditures.

One of the main things that lenders look for on your bank statements is gambling transactions. This factor can cause risk further down the line which is why lenders will look at if you do frequently gamble and will be cautious towards this. If you are constantly gambling, lenders won't risk the chance. Another thing lenders will see as a drawback is if you are regularly going over your overdraft limit or if your direct debits bounce consistently.
Proof of the deposit for your mortgage
For anti-money laundering purposes, you will need evidence that you have the funds in place for the deposit. It's best that you try not to move the monies around your various accounts too much because it will make evidencing the audit trail more challenging. Your savings building up is something lenders like to see, therefore, you'll need to account for any extensive credits in your accounts.

There has been a recent increase in the popularity of gifted deposits, we have seen that they contribute towards many people's 5%. Usually, gifted deposits are generally from a family member or friend of the applicant. In order for these funds to be evidenced properly, the "donor" of the funds will need to sign a letter confirming and evidencing that this is a gift and not a loan.
Proof of income
Proving your income is one of the most important things when it comes to affordability. Employed applicants usually will need to evidence this through the last three months' payslips and most recent P60. Regular overtime, commission, shift allowance and bonuses is another thing lenders can factor in. Whereas self employed will need help from their accountant by requesting your tax year overview.
A list of your expected outgoings
Looking into an estimated amount of your anticipated outgoings after you move house can always be helpful. Furthermore, you can work out an estimation of how much the council tax and utility bills will be. On top of this, you can work out regular expenditures like food and drink. Taking all these into account will show how much disposable income you have available to your mortgage.

When applying for a mortgage, it can be a challenge if you are doing everything on your own as things can become complicated. With a Mortgage Advisor in Leeds being there every step of the way can be very helpful. Impressing your lender by showing them you have done all you can within your power to get prepared for your mortgage application can be challenging. We can assist you with this by providing the best impress of you to your lender and we would have everything prepared for you within 24 hours of free mortgage consultation depending on your circumstance.
Agreement in Principle: All About Hard & Soft Credit Searches in Leeds
Credit Score Mortgage Advice in Leeds
Across the nation we now find that people are paying a lot more attention to their credit rating they might have done in previous years. We find that a large majority of the people who call us for mortgage advice in Leeds perhaps have already researched online to find a copy of their credit report.

There are a wide variety of different credit reference agencies to choose from, but the two most common companies you may be aware of are Experian or Equifax.

We would highly recommend that new customers who get in touch look to use Check My File. In doing so, you'll find a report that offers customers a collation of information from various sources (the aforementioned two included) in an easy to understandable colour-coded report.

Check My File offers a 30-day free trial. After this 30 days, you will be charged £14.99 a month, although you can cancel this at any time prior to the end of those 30 days.

When speaking with our customers, our mortgage advisors are often asked if they will be doing a credit search on them, as they have done their research and know that too many searches can negatively affect their credit score.

The lender will always run their own credit checks but our mortgage advisors will always ask the customer for permission before doing so. You'll find that credit searches will come in two forms; hard searches and soft searches. Here we will discuss the difference between the two and how they can help.
What is a hard credit search for a mortgage?
A hard credit search is a way to take an in-depth look at your credit report. No matter who they are, any financial institution carrying out one of these will have to seek your permission to do undertake one of these.

The main advantage of a "hard" search would be how in-depth it actually goes. The chances are, if you can pass a hard credit check, it is likely that you will go on to be successful with a mortgage (though this is of course never a guarantee).

From this point on, all that can go wrong with your mortgage process is if for some reason you cannot provide the required documentation to backup the information that you have presented to the lender, or it turns out you have provided incorrect information altogether.

Looking at it from the other hand, another benefit is that having a hard search taken out on you will leave a 'footprint' on your credit file, which would mean that anyone taking a look at your report can see that it has been carried out.

This is not a bad thing at all, but let's say that for some had multiple searches included in your credit file in a short period of time. This could come across to the mortgage lender that you are applying for a lots of credit at the same time and this may put them off.

The footprint will not leave a note as to whether or not your application was successful, so if you have several searches in a short amount of time, the lenders' systems may assume wrongly that you are being declined regularly. Think about it; why would you apply for credit with a second lender, unless you'd been declined by the first?

Having the occasional hard footprint on your record isn't too big of an issue, so you really don't need to worry about it too much. Just be careful not to have too many of these taken out
What is a soft credit search?
The alternative to the hard search, would be a soft credit search. This would be a much straightforward search which takes a look at your financial situation and would be the type of search that you might come across when using a price comparison website, so that you can find out what options may be available to you.

Alternatively it can be used to verify your identity. You'll find that some mortgage lenders will carry out soft searches of their own. We find that nowadays, even more lenders are changing to this type of credit search.

Whilst it will give whoever is carrying out a soft search less information than they would've gotten from a hard search, if you managed to obtain an Agreement in Principle from a lender, it is still a very good indicator that your full application will be accepted for a mortgage.

One of the things that appeals to customers regarding soft searches is that you have the ability to see soft searches that others have carried out on you (people are often surprised by how many have been carried out on them), though these searches will not be visible to other financial institutions such as a bank or lender.

This means that you have the ability to apply for an Agreement in Principle ahead of a mortgage in Leeds, without causing any damage to your credit score, regardless of whether it is successful or not.

If you are thinking of making any offers on a property as a first-time buyer in Leeds, our trusted and dedicated mortgage advisors in Leeds would very much suggest that you obtain a mortgage Agreement in Principle in place prior to getting in touch with an estate agent.

You should ideally look to give yourself the best possible chance of securing your dream property at the lowest possible price. With this in mind, if you present yourselves as having your finances in order, you will definitely give yourself the upper hand in your mortgage situation.

Being in possession of an Agreement in Principle could also help prevent an estate agent from trying to cross-sell any of their own mortgage products to you.
Why can't it be easier to get a mortgage in Leeds?
Specialist Mortgage Advice in Leeds
For many first time buyers in Leeds, and sometimes for home movers, getting a mortgage can be a struggle. Whether it's to do with credit score, deposit size or affordability, you may encounter a problem or so along your mortgage application journey.

As a mortgage broker in Leeds, we've seen many different reasons why someone has been declined for a mortgage. In this article, we are going to take a look at the most common situations that we come across:

Failing to match criteria
When it comes to matching lender's credit scores, some will be easy to match than others. Each lender will be targeting their own type of customer, therefore it's very unlikely that you'll pass every lender's criteria, no matter how good your credit score is.

You'll find that lenders with the lowest rates will have the tightest lending criteria. To pass their criteria, it's likely that you'll also need a high credit score and a clean credit history, etc.

Lenders will only take on reliable customers. They will not take on someone who carries a risk of falling into areas over the course of their mortgage term. If you have a bad credit history or currently have bad credit, you may need to approach a specialist mortgage lender.

As a specialist mortgage broker in Leeds, we can access specialist lenders and can check whether you'll match their criteria. It's our job to offer help to customers who are struggling with their mortgage journey.

Deposit amount
There is always uncertainty as to how much deposit you actually need for a mortgage. Is it 5%, 10%, 15%?

It is all down to your credit score to how much deposit you will be required to put down. Typically, the lower your credit score, the higher your deposit will have to be. Obviously, your deposit total also depends on the property that you're buying, as property price goes up, so will your deposit.

If you don't have a deposit in place for a mortgage, it's very unlikely that you'll be able to get one. However, you may not need a deposit if you're taking out a right to buy mortgage in Leeds.

Utilising government-led schemes could possibly help you get a mortgage with a small deposit. There are lots of schemes out there to help struggling customers get onto the property. You could take a look at the Help to Buy Equity Loan, Shared Ownership and the Mortgage Guarantee scheme. There are lots of different options available.

Find out more here: ownyourhome.gov.uk
Computer says no
Sometimes you may not find out the reason why you can't didn't qualify for a mortgage. The lender just declined your application.

In this situation, it could be anything from that you've applied for the wrong product to that you simply didn't match the lender's criteria. As a mortgage broker in Leeds, we like to call this the "computer says no".

Leedsmoneyman will never put you forward for a mortgage product that we know you will not get accepted for.

Our job, as a mortgage broker in Leeds, is to try and find you a suitable mortgage deal that matches both your personal and financial situation. We will thoroughly measure your affordability and perform a credit check on you; this way, we can start searching for a product that's perfect for you.

Fast & Friendly Mortgage Advice in Leeds
Our team will make getting a mortgage seem easy once you pass the affordability stage. Having a mortgage advisor in Leeds by your side could prove extremely beneficial and will allow you to progress through the mortgage application stress-free.

Now, instead of asking "why can't it be easier to get a mortgage?", use a mortgage broker in Leeds!

Our team are available 7 days a week. Book your mortgage appointment online today.
How to Improve your Credit Score in Leeds
Credit Score Mortgage Advice in Leeds
Firstly, what is a credit score? A credit score is a numerical value that lenders use to calculate your affordability for a mortgage loan/any form of credit, etc. Although different lenders have their own unique credit scoring models, the credit score that you'll have listed on your score will likely range from 300-800+.
Credit score criteria
300-580 – A score within this range is considered poor. Having a credit score like this can lower your chances of being accepted by your lender. You may also be limited to specialist products and have to put down a higher deposit.

580-670 – This is a fair credit score. Your lender may be more lenient with you and your application with a score like this.

670-740 – You have a good credit score if you fit in this range and your chances of being accepted will be higher. This is the most common credit score amongst applicants.

740-800 – This score is classed as very good. A very good score in this range can further increase your chances of being accepted for a mortgage and will likely open you up to more competetitive rates.

800+ – If you have a score greater than 800, it is classed as an excellent score. Your score is considered well above the average, well done!


A credit score below the 'good' range may mean that you'll only be able to access specialist products, whereas, if you have a score that's greater than 'good', it's likely that you'll be able to access more competitive products.

Reasons that your credit score may be lower
As an experienced mortgage broker in Leeds, we handle specialist cases every day. More than often we find that our customers have come to us after being declined by their bank/building society due to a low credit score or something similar. It's our job to pick up where they left off on their mortgage journey and try to secure them a great mortgage deal.

There are many different reasons why you could have a low credit score. A common reason that we come across is that there is a county court judgement (also known as a CCJ) associated with the applicant's name. You may receive a CCJ when you've taken a loan/borrowed money and have failed to pay off the amount owed. CCJ's can put a harmful imprint on your credit file for 6 years or more, and that's why it's so important that you try and get the CCJ removed from your file prior to applying for a mortgage or make sure that you pay off all owed payments before you receive a CCJ. A CCJ will undoubtedly reflect negatively on your mortgage application and your lender will start asking questions.

Following on from CCJ's, failing to stick to credit agreements can also harm your credit score. Even failing to keep up with your mobile phone contract payments can eventually cause damage to your credit file. You can't forget about the little things either, as they can cause damage too. For example, dipping into your overdraft every month could cause a long term negative effect.

These are just a few examples of things that can negatively affect your credit score. Of course, there are lots of other reasons why you may have bad credit and some more obvious than others. It's our job to try and help you improve your score and give you expert tips to try and get your credit file looking up to shape.

Improving your credit score in Leeds
Improving your credit score, especially when it's low, can sometimes be difficult. When it comes to helping you improve your credit score, we want to give you the best advice possible to help you do so.

You should know that each lender has their own unique passing criteria, so your score may affect what sort of deals you can access from each one. Also, you may not match every single mortgage product, so rather than applying for lots of different products, you could try shopping around for mortgage deals that will definitely match your situation and credit score.

Avoid unnecessary credit searches
You'll have a soft or hard credit search performed on you every time that you go directly to a lender and their in-house mortgage advisor puts you through for a deal. This search will leave an imprint on your credit file and other lenders will be able to see the search. If your application is declined, the credit search on your file may have a negative impact on your credit file. This is why we recommend keeping the number of searches performed to a minimum.

This is where we can help! As an expert mortgage broker in Leeds, we aim to get it right the first time, which means that we will take a look at your credit score and only look for products with criteria that we know you'll pass.

Avoid credit applications
Applying for credit, particularly during your mortgage application, can sometimes backfire on you. If you take out a loan or apply for extra credit if you fail to pay it off before your application, your credit score may dip and it could reflect badly on your credit file.

In some cases, as long as you pay it off, borrowing credit can actually help improve your credit score. This is because you are showing that you are a reliable applicant that meets their payment deadlines.

Check that you're on the voter's roll
An easy way to help improve your credit score is to get yourself registered onto the voter's roll (if you aren't already). Being on the voter's roll shows that you are who you say you are and you live where you say that you live. It's a simple registration process; head over to the official government's electoral roll page to find out more.

Make sure that you fill out accurate information when registering for the roll. You will need to provide your current living address, so make sure that there isn't an old one on their system.

During the mortgage application process, you should make sure that all of your information is filled out correctly, double-check that you've not got an old address listed anywhere!

Don't run close to your maximum limit
Maxing out your credit card(s) each month can heavily impact your credit score, in a negative way. Of course, paying off your credit cards each month will help and may give your credit score a small boost.

If you are exceeding credit card limits and always dipping in and out of your overdraft, they may feel as if you don't take your finances seriously and are an unreliable applicant.

Remove financial links to others
Your credit score could be getting harmed without you even knowing if you are still financially linked to someone who has bad credit. Whether it's an ex-partner or a family member, if they are harming your credit score, you should try and get your financial links removed from them. The only way to do this is to get in touch with your credit reference agencies and make a request.
Is it all about your credit score?
At the end of the day, it's up to your lender to decide whether they feel like you are the type of person that they want to be lending to. Some may be more lenient than others, whereas some may be strict and won't give you some leeway.

Sometimes it's best to get help from professionals like us. Using a mortgage broker in Leeds could allow you to access new, competitive mortgage products. Whether you've got bad credit or good credit, it's our job to try and find you a product that you perfectly match. We have a huge panel of both high street and specialist lenders, each with 1000's of mortgage deals for you to try and access.

For further credit score mortgage advice for first time buyers in Leeds and home movers in Leeds, feel free to get in touch today.

Have You Been Declined For a Mortgage in Leeds?
Specialist mortgage advice in Leeds
If you've been to your bank and been declined for a mortgage, you need to be careful about applying again and then getting declined again. There could be many different reasons why you've been declined, some may be easier to fix than others too, it depends on your situation.

Here we look at some of the most common reasons why people get declined for a mortgage.

Failing a credit score
One of the most crucial steps to obtaining a mortgage is passing the lenders credit score. Depending on factors, such as your personal and financial circumstances, some may be easier to pass than others.

Each lender will have their own unique lending criteria. Usually, if you are applying for a mortgage through a high street lender, you may be expected to have a higher credit score and be able to match competitive criteria, whereas, if you have a low credit score or have had past credit problems, you may be required to use a specialist lender with limited products.

Failing a credit score may also negatively impact your overall credit rating; this is why we advise that you don't keep applying to different lenders if you're getting declined. Rejected applications may show up your credit file, and may affect your score and ability to get accepted for credit.

If you're struggling to get accepted, you may benefit from using a mortgage broker in Leeds, like us. We are a specialist broker who try and help people in this or similar situations. Rather than getting declined and potentially damaging your credit score, you should get in touch and we will see how we can help!

Improving your credit score in Leeds
Folowing on from 'failing a credit score', getting declined due to your credit score not matching a mortgage product can be dissapointing, and that's why you should know that you can sometimes improve it!

If you have a low credit score, it is usually down to previous/current credit issues. This could be something from a CCJ to numerous unpaid phone bills. A low credit score is usually considered as less than 500, so if you fall within this range, you may need to look for specialist products.

You can increase your credit score in some cases. For example, if you have a credit card that you use regularly, you should make sure that you pay the balance off in full each month. Surpisingly, being on the voter's roll can also help as it shows where you live and adds another proof of address on your credit file. Even closing old credit/store accounts and removing your financial links to others can help improve your score.

Improving your credit score can be tricking, if you watch some more top tips, check out our YouTube Video on "How to Improve your Credit Score".
Declined for a Mortgage on Affordability
Every lender will have their own way of calculating how much you can borrow. It's possible that you could approach ten different lenders and the outcome is ten completely different answers. Depending on the lender that you've used, you may recieve a more lenient offer than others.

Some mortgage lenders will assess 100% of an employee's overtime and bonuses, whereas others will not. Additionally, some lenders will accept "unearned" income, such as tax credits, child benefits, and maintenance. It's all down to the lender that you use.

If you use a mortgage broker in Leeds like us , we can approach several different lenders without the need for a credit check in order to perform an affordability assessment. We always advise that you carry out a affordability addsessment prior to applying for a mortgage and viewing properties in Leeds. You want to avoid potential dissapoitment further down the line.

Proving that you have maintained mortgage or rent payments in the past does not necessarily guarantee that you will pass a lender's affordability test.
Outside of lending policy
All Lenders have their own unique lending criteria. This will be individual to their own products hence, depending on your situations, that's why some lenders are better than others.

Some lenders have even have their own niches to attract borrowers that they want. Some will tick different boxes, e.g. you may get a specialist lender who aims to help applicants with bad credit, whereas, another lender may stay away from these applicants.

Here are some examples of why your application has been declined for being outside of policy:
Length of time in employment or self-employment.
Adverse credit history
Not enough deposit
Non-standard property construction
A married applicant applying for a sole mortgage
Minimum/maximum age or mortgage term
Minimum/maximum loan amount
Mortgage Broker in Leeds
As a mortgage broker in Leeds, it's our job to only compare mortgage products that we know you'll match. We will never recommend you a product that will not benefit your situation.

Whether you're a first time buyer in Leeds, or moving home in Leeds, we're here to help! We know the difficulties that come with the mortgage journey and we know how to get by the majority them.

Get in touch today for a free mortgage consultation. We can't wait to hear from you!
What is a Property Survey?
Property Survey Mortgage Advice in Leeds
The good news, you have had your offer accepted on a property. However, is the house actually worth what you said you would pay for it?

A property survey will carry out to find out the actual value and the property's overall condition. Then, the surveyor inspects the property and highlights any concerns, such as structural damages like uneven walls or subsidence. 

They will highlight any significant repairs or alterations needed, such as repairing the roof.
Different types of property survey
There are numerous survey options available. The three main types of property surveys are mortgage valuations, homebuyer's report and a full structural survey. Depending on the Lender, the survey might be free of charge. Read on for a more vital explanation of the different types of survey available.

The outcome of your survey report will vary depending on the survey that you choose. Some provide you with in-depth detail, whereas others will only brush upon certain aspects. You'll find that the more in-depth a survey is, the more costly it will be.

Nevertheless, navigating the property market can be complex, and it can be tempting to choose the cheapest solution. But attempting to save money on a survey may lead to far more expensive in the long term. 

If you discover something on your survey about your property that you weren't told about, by law, you are allowed to approach the seller and negotiate a fairer price.
Mortgage Valuation
Mortgage Valuations are the simplest type of property survey. These are carried out to work out how much a property is worth. Your lender will need to ensure that the property price matches how much you are set to borrow from them. 

For example, if you put an offer above the property's actual value, the seller will likely accept your offer. However, your lender won't. Unless you have the funds to make up the difference, the lender will pull out of the deal. This is called a down valuation.

Unfortunately, this type of survey doesn't point out apparent repairs and damages. However, it can inform you of obvious structural defects that will require a further look at. For additional property investigation, you will be required to pay more to upgrade your survey. In the long run, this may be worth it.
Homebuyer's Report
A Homebuyers Report focuses on safety. How safe is the property? Is it suitable for living? These things need to be checked as there could be a mould problem, damp issues or something that does not pass the current building laws.

A property expert will carry out the report. They will examine the property from top to bottom, ensuring that it's safe for you to move into.
Full Structural Survey
As a Mortgage Broker in Leeds, if you've made an offer on an older building, we would strongly advise that you take up a Full Structural Survey.

This is the most expensive property survey because the whole property is surveyed. It will also provide the most significant insight to the property out of the three primary surveys, highlighting what condition the property is in and what changes need to be made if the property purchase goes through.

A Full Structural Survey can take as long as a whole day, depending on the property size.
Do I need to get a survey on a new build?
New build properties work slightly differently. There is a property survey specialised for them called a Snagging Survey. This survey will point out both minor and significant issues, and it could be anywhere from a crack in the ceiling to a missing hinge on the door.

If the new build has already been built and it's ready for you to move into, ideally, you want to get a snagging survey carried out on it before moving in. This way, you have the power to negotiate to price if there is anything wrong with the property.
Mortgage Advice in Leeds
If you need guidance on which survey to choose, don't hesitate and get in touch to speak with one of our reliable mortgage team. We've helped hundreds of First Time Buyers and Home Movers in Leeds select the most suitable property surveys for previous customers – you could be next!

You can receive the services of a surveyor to carry out a Homebuyers report or building survey through the Royal Institution of Chartered Surveyors.
What is a 95% Mortgage?
A 95% mortgage is when you borrow against 95% of a property's price, covering the remaining 5% with your deposit. For example, if you looked at buying a property worth £150,000 with a 95% mortgage, you would put down £7,500 as your deposit and borrow the remaining £142,500.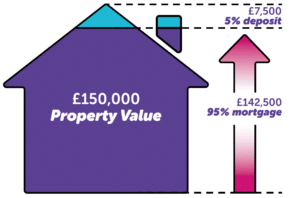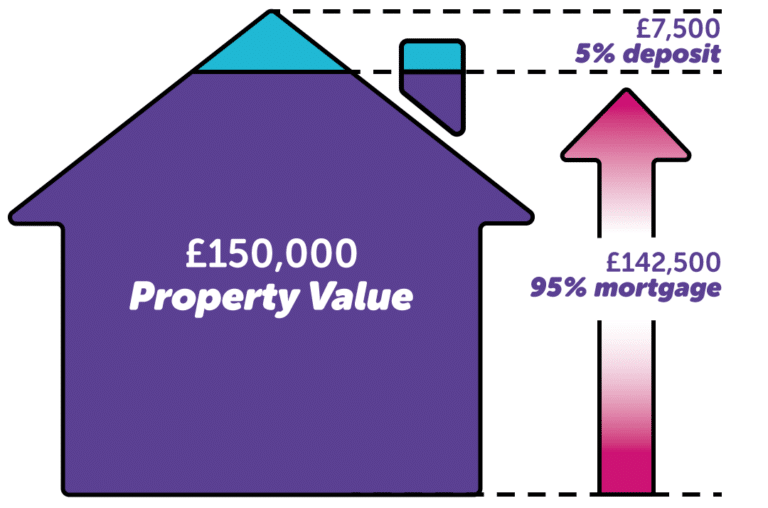 95% Mortgage Advice in Leeds
With the March 2021 Budget, Boris Johnson declared a Mortgage Guarantee Scheme for Lenders, making 95% mortgages more promptly available from banks.

This is excellent news for both first-time buyers and home movers, as this will run until December 2022. Specific terms and conditions will apply. Your Mortgage Advisor in Leeds will be able to see if you qualify.

All our customers receive a free, no-obligation mortgage consultation from recommending the best mortgage deal tailored to your circumstances.
Can I get a 95% mortgage?
95% mortgages are generally available to both First-Time Buyers in Leeds & people looking at Moving Home in Leeds. Whilst the idea of saving for a 5% deposit sounds easy enough, you'll still need to have a good credit score and prove that you can afford your monthly mortgage repayments to be granted a 95% mortgage.
Improving your credit score
A good credit score is a key to obtaining any mortgage, especially a 95% mortgage. Things like paying any existing credit commitments on time, ensuring your addresses are up-to-date and that you're on the voters' roll can all help build this up. For a more in-depth look at what you can do and why, please see our How to Improve Your Credit Score article. 
Affordability
Affordability is another key one. By providing details of your income and monthly outgoings (things like your bank statements will be necessary for this) and any pre-existing credit commitments, your lender will get a good idea of whether or not you can afford this type of mortgage.
Can my family help me get a 95% mortgage?
These days, it's trendy for family members to help each other get onto the property ladder, especially parents looking to further their children. This can be achieved by gifting the person looking to find their home and the property's deposit. Known by some as the "Bank of Mum & Dad, Gifted Deposits work purely as a gift and not as a loan. The lender will need proof that this is the case before it can be used towards your mortgage.
How do I choose the right 95% mortgage?
When looking for a 95% mortgage, you want to make sure you're on the right one. Each different mortgage type works in its own unique way, allowing you to find one that is best suited for your personal and financial situation.

You could find that you prefer Fixed Rate or Tracker Mortgages, where you either keep interest rates at a set amount for the term or have your interest rates follow the Bank of England base rates.

Alternatively, you might find that you're better suited for an Interest-Only or a Repayment Mortgage. The former allows cheaper payments until you need to pay a lump sum at the end (more suitable for Buy-to-Lets), and the latter means you'll be paying interest and capital combined per month.
How can a more significant deposit help with my mortgage?
As with anything involving such a significant financial outgoing, you need to be prepared and need to be wary. Things that might crop up include higher interest rates, remortgaging difficulties due to less equity, and negative equity.

The good news here is that all these can be avoided if you're savvy enough with your initial process. The more deposit you put down, the less risk you are to the lender.

A larger deposit, of say 10-15%, would not only lower your interest rate significantly but would also put more equity in the property and reduce the risk of negative equity as you would be borrowing less against the property in question.

So, whilst the risks seem daunting at first, planning ahead and saving for a bigger deposit to access something like a 90% or even an 85% mortgage will be a definite lifeline and something you'll be able to reap the rewards from.
Get an Agreement in Principle for a Mortgage in Leeds
First-Time Buyers Mortgage Advice in Leeds
A Mortgage Agreement in Principle is essentially a document to prove you have a mortgage in place. It is something we obtain for all our clients, and almost all lenders offer them. It demonstrates that you are creditworthy because of the Agreement certificate to be issued, you must pass the Lender's credit score.

A Mortgage Agreement in Principle is not a guarantee that you will definitely get a mortgage as your full application will require further background checks (such as evidence and income) and a satisfactory valuation of the property itself. However, we think it's a good idea to get one done at the earliest opportunity for the following reasons:
1. Negotiating Power
2. Avoid Disappointment
3. Knowing your Limits
Negotiating Power with a Mortgage Agreement in Principle
When you are ready to offer a new home, most Estate Agents will undertake due diligence and ask you to produce evidence that you have funds available to complete the purchase. This will take the form of bank statements and an Agreement in Principle certificate that we can provide for you.

Once you have provided them with enough documentation the Estate Agent will naturally stop marketing the property and put a "Sold" or "Sale Agreed" boar outside the property to let other people know it's off the market.

Suppose you already have a mortgage agreed upon before you make an offer. In that case, you are making yourself appear as an attractive proposition as this proves you are not making an offer on a "whim", you've thought about how you're going to fund the purchase and have done something about it. This might persuade a seller to accept an offer you put forward on their property underneath the asking price.
Avoid Disappointment with a Mortgage Agreement in Principle
When it comes to buying a house some clients have always "put the cart before the horse" to say they go full steam ahead and make an offer on a property without first checking that they are actually in a secure financial position to proceed. This can lead to terrible disappointment if the mortgage application fails because, by that time, they have got their heart set on their new family home.

Furthermore, your mortgage getting refused isn't always down to the offer you put in. It can sometimes be something else. For example, there may be a niggling issue on your credit report, perhaps a disputed mobile phone bill that can easily get rectified. Maybe you thought you were on the voter's roll and you're not – once again that can be sorted out given a few weeks.

Maybe you can't get a mortgage at all, and if that's the case, it's better that you know now rather than mess people about, though we may be able to help if you contact us and we'll be able to tell you what you need to do to improve your credit-worthiness for the future.
Knowing your Limits with a Mortgage Agreement in Principle
By now you know you've got a good credit rating because you've never got turned down for credit, you've registered on the voter's roll and you've always made your credit card payments on time.

You could approach ten different Lenders these days and get ten different maximum mortgage amounts; they all calculate affordability in their own unique ways. If you're self-employed in Leeds: some Lender can take your net profit, others your salary and dividends. Some use your latest year, others an average over three years.
How can our Mortgage Advisors in Leeds help assist you?
Knowing your borrowing limits is essential as then you know for sure what your price range is.

Our team of Specialist Mortgage Advisors in Leeds may be able to advise you of the maximum mortgage available to you. Even more importantly together, we'll work out how much you can afford to pay back each month.
Mortgage Advice in Leeds | Why Speak to a Mortgage Advisor?
Why get Mortgage Advice in Leeds? Why go to a Mortgage Broker? If you are asking yourself these questions, then it's time to take a look at all of the benefits of getting Mortgage Advice in Leeds.
Why do people comes to us for Mortgage Advice in Leeds?
There are lots of different reasons to why someone might use a Mortgage Broker in Leeds. We offer advice in a variety of different areas and will try and find you a great mortgage deal for your specific mortgage scenario.

Even though we cover lots of different mortgage types, our usual customers consist of struggling First Time Buyers or people that have been declined by their bank. So, if this is the same as or a similar situation to your own, make sure to get in touch as you may need specialist guidance from an advisor.

So you are ready to approach your Mortgage Broker in Leeds and you are ready to get the ball rolling… but which mortgage types do we cover?
Mortgage options in Leeds
Are wanting to set off on your mortgage journey to get yourself onto the property ladder? Well, our First Time Buyer Mortgage Advisors in Leeds are here to help!

Leedsmoneyman will search through thousands of First Time Buyer mortgage deals in order to try and find the perfect one for you. We know exactly how to save your time and your money, we have been in the broker industry for 20 years after all! We want the process to run as smoothly and as stress-free as you do.
If you are thinking that it is time to move on and want to start the process of Moving Home in Leeds, then why not get the help from a Moving Home Mortgage Advisor in Leeds.

As a Mortgage Broker in Leeds, we know that people sometimes outgrow their home. Whether it's down to wanting more living space, starting a family, or something else, it's normal for people to want to start a new chapter and move home. Having a professional by your side could allow you to access the latest mortgage deals on the market and it will take all of the stress away from the process!

We always aim to save your time and your money, even when it may not seem possible.
Is your current mortgage deal approaching its end? Do you want to switch onto a more competitive deal that could save you money? If so, then it's time to Remortgage!

Your expert Remortgage Advisor in Leeds is here to help! Rather than switch over online to make things 'easier', you should get in touch with us and we can compare external deals for you through over lenders. With a large panel of lenders to hand, we are able to search through thousands of deals for you.
Are you a current landlord wanting Buy to Let Mortgage Advice in Leeds? Maybe you are considering dipping your feet into the Buy to Let mortgage world? If this is your situation, then it may be time to get Mortgage Advice in Leeds.

We have been working with local and budding landlords in Leeds for over 20 years now, and we want you to be next! Get in touch for a free Buy to Let mortgage consultation.
We know that it can sometimes be hard getting a mortgage when you are Self Employed, and that's why we want to offer a helping hand.

As an experienced Mortgage Broker in Leeds, we have helped thousands of Self Employed customers achieve their mortgage goals. Even if we are faced with some bumps along the way, we will always try and get over them and get you a great mortgage deal that is best suited to your personal and financial circumstances.
Being faced with a tricky mortgage situation is not ideal, especially when you have to deal with it on your own. Having a Specialist Mortgage Advisor in Leeds by your side would take all of the stress off you back and since we have been in this game for over 20 years, it's likely that we'll be able to solve your issue straight away.

In Leeds, we deal with new, specialist mortgage situations every single day. We love a good challenge at Leedsmoneyman, so don't hesitate to get in touch, even if you think that your personal situation is too complicated.
Interested in going down the Help to Buy route? Need Help to Buy Mortgage Advice in Leeds to help you choose a scheme? You are in luck because Leedsmoneyman specialises in Help to Buy mortgages too and can offer you a free Help to Buy consultation too!

Remember, to access most of the schemes you either need to be a First Time Buyer or moving into a new build. For more information, you can also check out the government's official Help to Buy page.
If you are wanting to buy your council house, you will need to take the Right to Buy mortgage path. Firstly, you need to check if you qualify. You can either do this entirely on your own or a Mortgage Broker in Leeds like us can help you out.

If you want to buy your council house, getting Right to Buy Mortgage Advice in Leeds could be your best option.
How Will Lockdown 2.0 Affect the Property Market?
Lockdown Mortgage Advice in Leeds
As of Thursday 5th, November to Wednesday 2nd December England will enter its second lockdown. British Prime Minister Boris Johnson has predicted that these additional restrictions will help to reduce the spread of the coronavirus.

However, this lockdown is a little more relaxed than the first, allowing more industries and educational settings to remain open. Our biggest worry was what would happen to the property market. However, from our viewpoint, we can say that everything seems promising, and the property market stays open.

There have been some minor modifications to parts of the home buying process, considering social distancing measures. The property market remains standing strong, here we compiled a list of what you are allowed to do over the lockdown:
Viewing a property to buy or rent
Visiting estate agents, letting agents, sales offices and show homes
Moving home
Getting ready for a home to move into
Preparing a home for sale or rent
For more information, click here to read the Government's guidance and regulations.

Already, First-Time Buyers and Home Movers in Leeds been sending enquires regarding Lockdown 2.0 and how will this affect them getting a mortgage, so we put together a list of frequently asked questions that got asked:
Can I take out a mortgage payment holiday during this lockdown?
Lots particularly asked it of homeowners during the first lockdown. In this lockdown, even though it's much shorter, you can take a mortgage payment holiday if you need to.

We understand that many people need help meeting their mortgage payments, if this is your situation, then taking one out could be your best option.

To find out more helpful information about mortgage payment holidays and whether you should take one out, check out our mortgage payment holidays article.

If you took out a mortgage payment holiday during the first lockdown and are currently still on the scheme, you can extend your holiday so that it comes to a total of six months holiday.

However, if you have already had a six month payment holiday, you have already reached the six-month limit and therefore unlikely that you will be able to access this scheme once again.
Can I move home in lockdown?
Compared to the first lockdown, where the limitations imposed were a lot tighter, you are still able to move home. Household moving services, rental service, everything needed will be made available.

As previously mentioned, the home moving process will need to get completed under the social distancing guidelines. It's going to be of most significance if you're looking at other people's home and taking house viewings regularly.
Can I go to my estate agents?
The Government are permitting you to visit your estate agent's office. However, some estate agents have chosen to work from home and have closed their local branches, so check to make sure whether they will be open or not.

It would be easier to transact over the phone, and there is nothing wrong with this, you can still get the process started over the phone and even online.

We advise that you take your time if you are doing everything online, and make sure that communication is straightforward and easy to understand.
Can I continue with house viewings?
You can proceed with your house viewings, however, if it's possible maybe you could try your estate agent's virtual house viewing (if they are offering that).

Most home buyers are shifting towards today's digital age and use this new method to house viewings; as a Mortgage Broker in Leeds, we also believe that the number of virtual viewings will rise over lockdown.

We know that this is a massive life decision, there is absolutely nothing wrong with opting out virtual option, but it is the safest option for the meantime.

Your estate agents will also check with the property owners that a socially distanced property viewing is serviceable and sanitised, if so, then you can arrange a date and time.

Depending upon the time of day and the homeowner's situation, they may leave the property so that there as few people in the household as possible.
Can I put my property on the market?
The property market isn't on a pause like the first lockdown; you will be able to continue the home selling process as usual.

You will need to think about everything that comes with selling a property, and this will involve choosing an estate agent and a property valuation, getting pictures of the property taken, and so on.

With the guidelines and restrictions in place, there may be some delay in the process. Estate agents are very busy at the moment with enquiries, and with all of the different measures in place.

Things that are usually easy to complete are taking a little longer.
Can I still use conveyancers?
Yes, conveyancing solicitors will stay open during the lockdown. They are going to be available to support your property sale.

Once Again, most solicitors are working from home, and we recommend that you be patient while due to the demand in the property market, things may come more slowly than usual.
Catching up to speed
The property market is slowly catching up to speed and thankfully can keep trading through this lockdown.

If you are wanting to start the mortgage/home buying process and would like help from a professional. It may be within your best interest to get Mortgage Advice in Leeds.

As an experienced Mortgage Broker in Leeds, we have a wealth of knowledge in helping customers obtain their mortgage goals.

We want the whole process to run as smoothly as you do; don't hesitate to get in touch today. We can't wait to hear from you!